(as told by Wikipedia)
Dieselhed formed in 1989 and soon built a loyal following in the San Francisco Bay Area with their unique blend of country, punk, and pseudo-classic rock. Drummer Heifetz budgeted his time between Dieselhed and the genre-bending experimentalists Mr. Bungle. Singer/Songwriter Virgil Shaw previously played in Arcata's legendary outfit Brent's T.V.. Bassist Ellis had been a founding member of the local disbanded Funk Rock band Psychefunkapus. Fiddling legend Jonathan Segel was a former member of local indie-faves Camper Van Beethoven.
With their creamy blend of unusual genres the band successfully developed an original sound that eventually led to a recording contract with independent label Amarillo Records in the early 1990s. Dieselhed released 3 full length LPs for Amarillo while maintaining a tireless national touring schedule throughout the 90s often accompanied by their "colorful" Mascot/Road Manager John Tynan. Jonathan Segel was reportedly kicked out of the band in the mid-90s for excessive onstage prancing, not showing up to band practice, and frequently extending his violin solos with little or no warning to the band.
Dieselhed's self-titled 1993 debut was received well leading to a modest spurt of college radio airplay. The band wound up selling out Amarillo's first two pressings of the album. Their second album, Tales of a Brown Dragon, came out in 1995 and helped to expand their already growing fan base. Dieselhed became regulars at the SXSW music festival held each year in Austin, Texas. Their third album, 1997's Shallow Water Blackout, was produced by Dwight Yoakam engineer Dusty Wakeman. Dieselhed followed their 1997 release with two U.S. tours opening for rock & roll legend Link Wray. For these dates Ellis and Heifitz would return to the stage after their opening set each night to back Wray. The two would go on to become Wray's regular backing band from 1997-2003.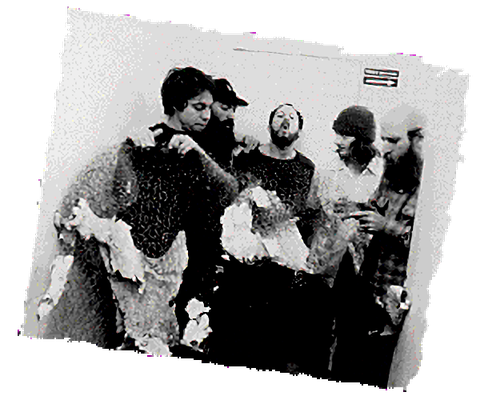 In 1998 Dieselhed signed a new contract with Bong Load Records, a label still riding the success of their recording and release of Beck's critically acclaimed gold record Mellow Gold. Dieselhed issued Elephant Rest Home in 1998 (a collection of previously unreleased songs) and their final album Chico and the Flute in 2000 on Bongload before disbanding later in 2000.
Lead song writer Virgil Shaw has gone on to release two critically acclaimed solo albums, Quad Cities and Still Falling, for San Francisco's independent label Future Farmer Records, in addition to the self-released New Mid City, and most recently At The Time I Didn't Care, on Rocks In Your Head Records.
Co-song writer Zac Holtzman now plays in the Los Angeles based band Dengue Fever. Danny Heifetz, now raising a family in Australia, stays busy with local studio session work and reportedly offers fine drum lessons (You can find him on Gumtree). Atom Ellis still resides in San Francisco and plays with local bands Chuck Prophet, Linda Perry and The White Trash Debutantes. Guitarist Shon McAllin is currently a licenced contractor residing in the deep woods of Northern California.