---
Dieselhed, 1994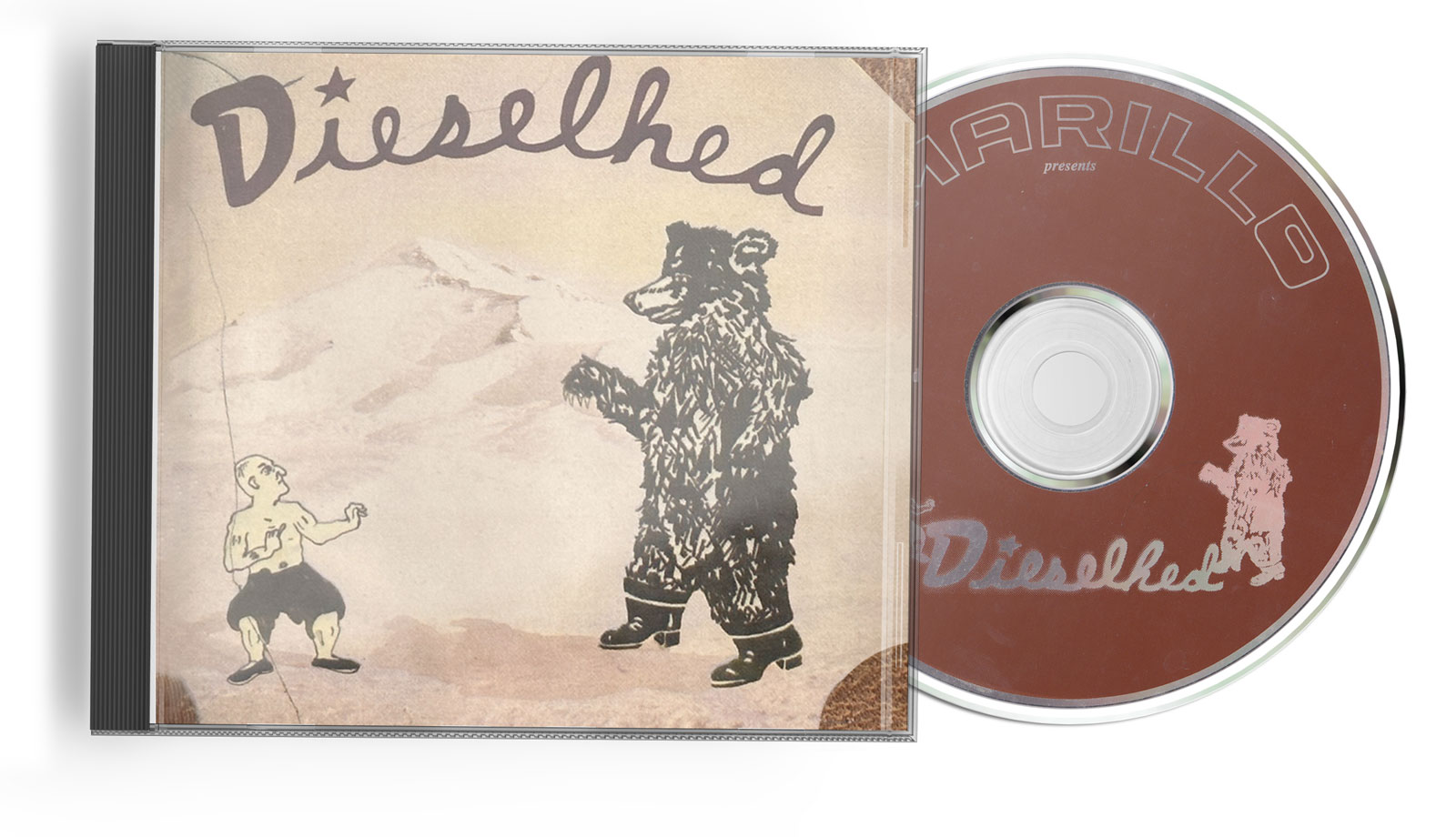 Our 1st release, featuring classic rock numbers such as "B.A. Band" and "Macrame X-mas Cards", the pop-country stylings of "Poodle's Ear" and "Greyhound", and of course, the hard rock sounds of "Sergio Taurus" and the live "Happy Donut". A real smorgasborg of sounds and styles.
On Dieselhed's self-titled debut, the band introduces the listener to their good ol' countryfied-punk rock & roll. There are lots of roaming bass, guitar, and violin lines, with group-sung verses and choruses. The band also likes to have fun, as evidenced in the humorous and heartbroken country goof "Poodles Ear" (which sports the lyrics "She's got a bandana on a Panama hat autographed by Billy Squier; a poster of Vince Neil in front of a brick wall of barbed wire and fire").
Another track with crafty words is "Greyhound," which talks about what the band eats for breakfast. "Hash Browns" opens up the album on an eerie note, with a similar sound to Nirvana's unplugged reading of the Meat Puppets' "Plateau." Other highlights include "Cloud of Diesel," which would sound perfect in a southern honky-tonk, and "Hot VW's," which contains loose drumming usually not associated with country-rock (courtesy of Danny Heifetz).
And although the album does drag a bit in places (especially on their overlong compositions "Ice Chest," "5 Shots," "B A Band"), the group's fresh approach to songwriting and unpredictably relentless sense of humor keep them afloat. Dieselhed's self-titled debut was a good starting point for the band, which they used as a building block for their later releases.
Tales of a Brown Dragon, 1995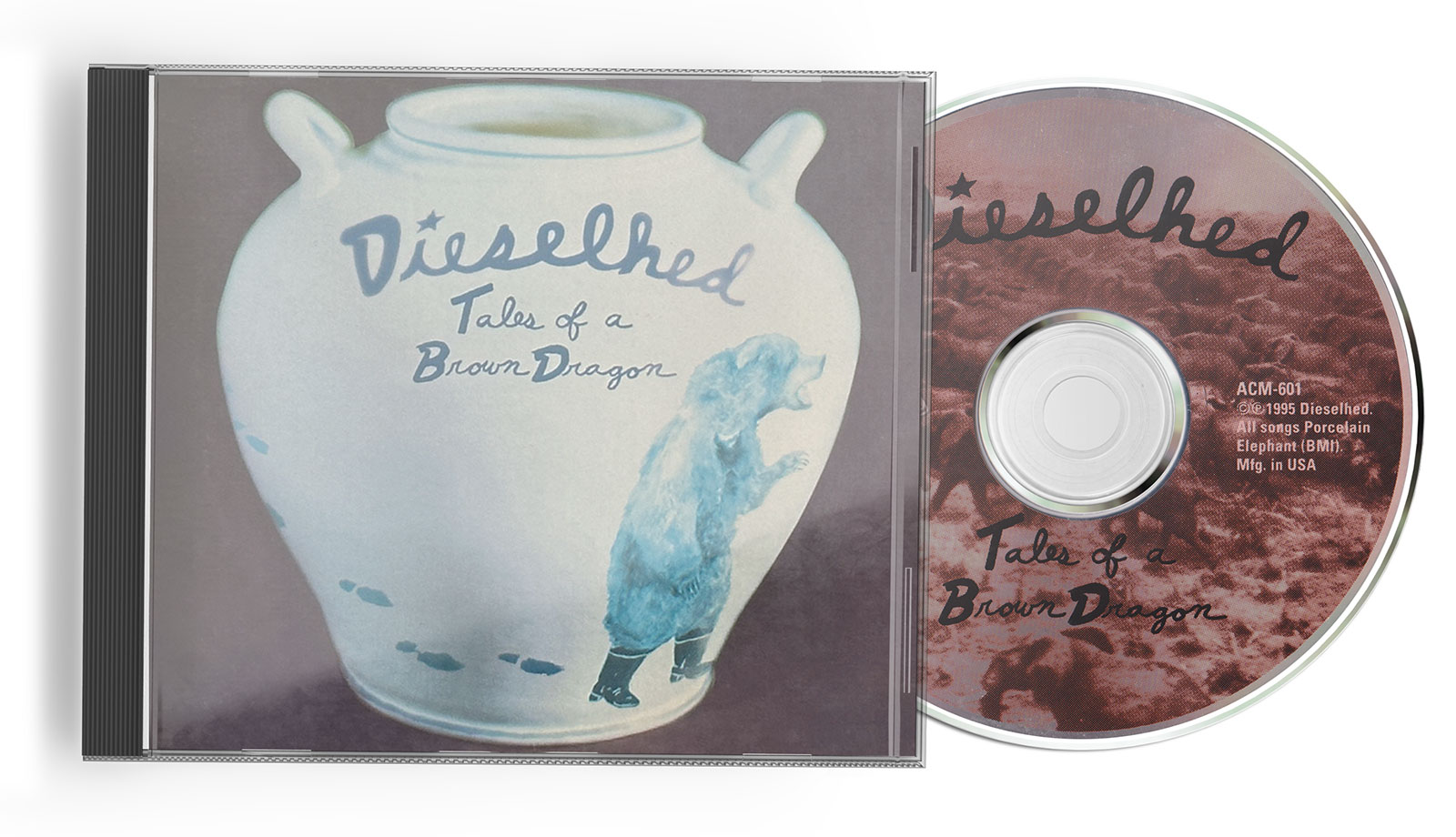 Our second release, part of the Radio Friendly Dieselhed scheme. Much more than the slick packaging, there's some actual compression in the mix. People as far away as Seattle and Los Angeles have remarked on the quality of the songs, the sound, and the shine of the jewelbox. Order this CD. You can't go wrong. You'll be happy.
The hillbilly punk-rock explorations of Arcata, CA.'s Dieselhed get even stronger on their sophomore effort, Tales of a Brown Dragon. The band has wisely cut back on the meandering (and sometimes overlong) compositions that prevented their self-titled debut from being a complete success.
Dieselhed has also focused and improved the quality of their songwriting, which makes Tales possibly their best and most consistent album. From the guitar chicken-pickin' of "Brown Dragon" and "Butcher Boy" (both contain rambunctious choruses that provide a sharp contrast to the rest of the song) to the speedy hoedown "Pizza Box," this is simply alternative country at its finest.
The soothingly experimental "Baby Song" is a new sound for the band (a horn is heard blowing in the background), showing that they refuse to stay put and rehash old ideas. The group has been known to include some witty lyrics in their songs, and on Tales of a Brown Dragon, the album closer "Snow Blind in the Liquor Store" lives up to expectations. Music for the alternative cowboy.
Shallow Water Blackout, 1997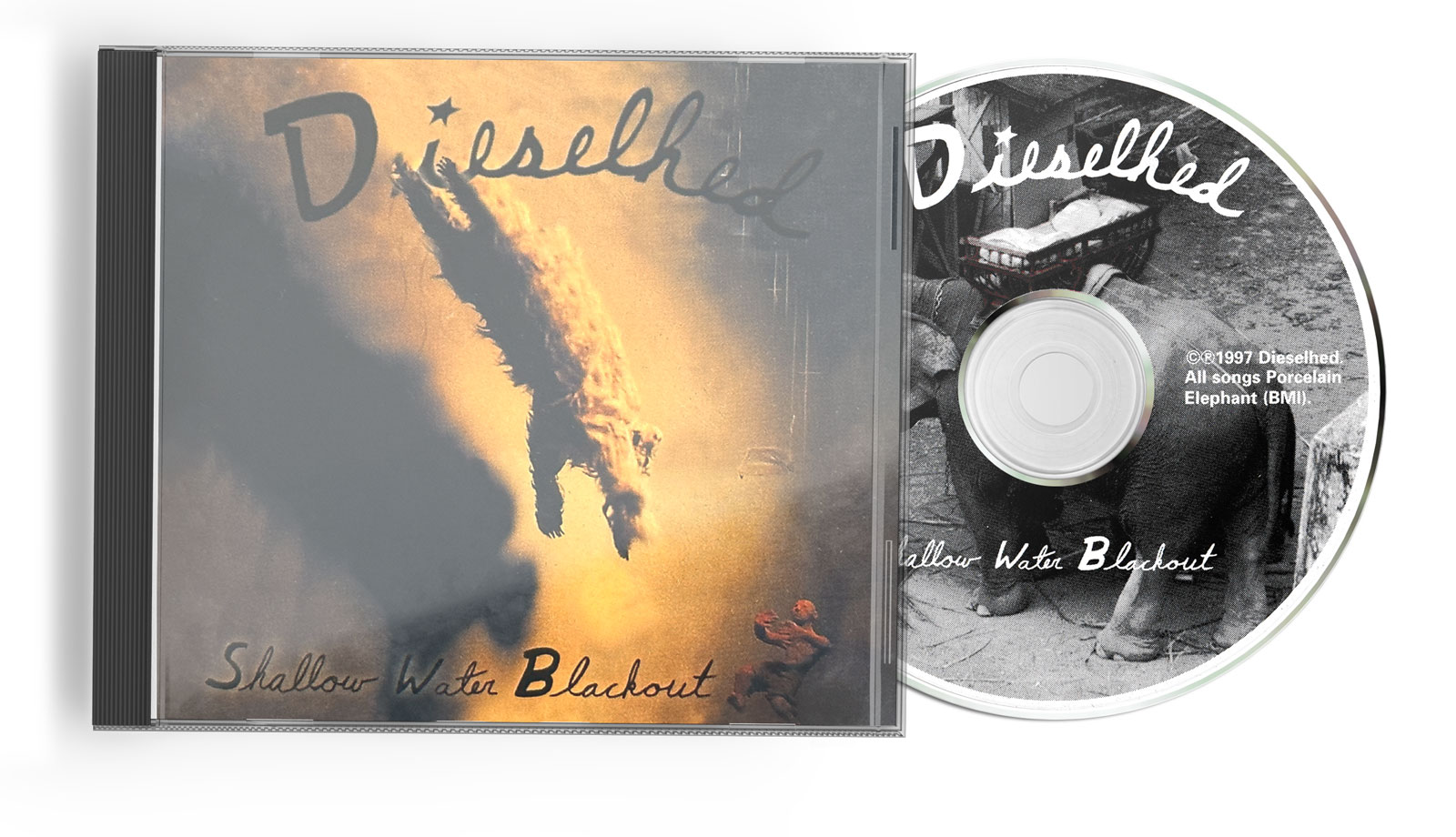 Dieselhed's third album is also its most polished, thanks to the crisp production by Dusty Wakeman (known for his work with Dwight Yoakam, among others). Shallow Water Blackout is a rather eclectic set of tunes, yet each one retains that distinctive Dieselhed sound … from the laid-back, melodic "Fog It Up" to the punchy "Blue Hawaiian" (which closes most of their live shows). Be sure to let the CD play long enough to hear "Yoga Instructor," which is tucked away at the very end of the last track.
Although the material is less consistent than their previous effort Tales of a Brown Dragon, Shallow Water Blackout is another healthy helping of the band's country-fed alternative. Longtime Dwight Yoakam engineer Dusty Wakeman produced the album, giving the songs a more authentic country kick. Although humor is a prominent ingredient in Dieselhed's music, they're definitely not an obvious joke band (like past goofy country-rockers the Kentucky Headhunters).
On first listen, "Fog It Up" sounds dead serious, but upon closer inspection, the song tells the tale of someone dreaming about a plane crash mid-flight, and wakes up at the end by a stewardess assuring him that they've landed safely and it's time to get off. With that said, the group does at times get downright silly, but with a sense of originality. The more straight-ahead compositions are the album's best, though — the sad tale of "Betty," the sloppy riff-rock of "Carving Soap."
The band doesn't seem to want to be tagged as either lighthearted or serious country, which is fine as long as they keep putting out fine records like Shallow Water Blackout.
Elephant Rest Home, 1998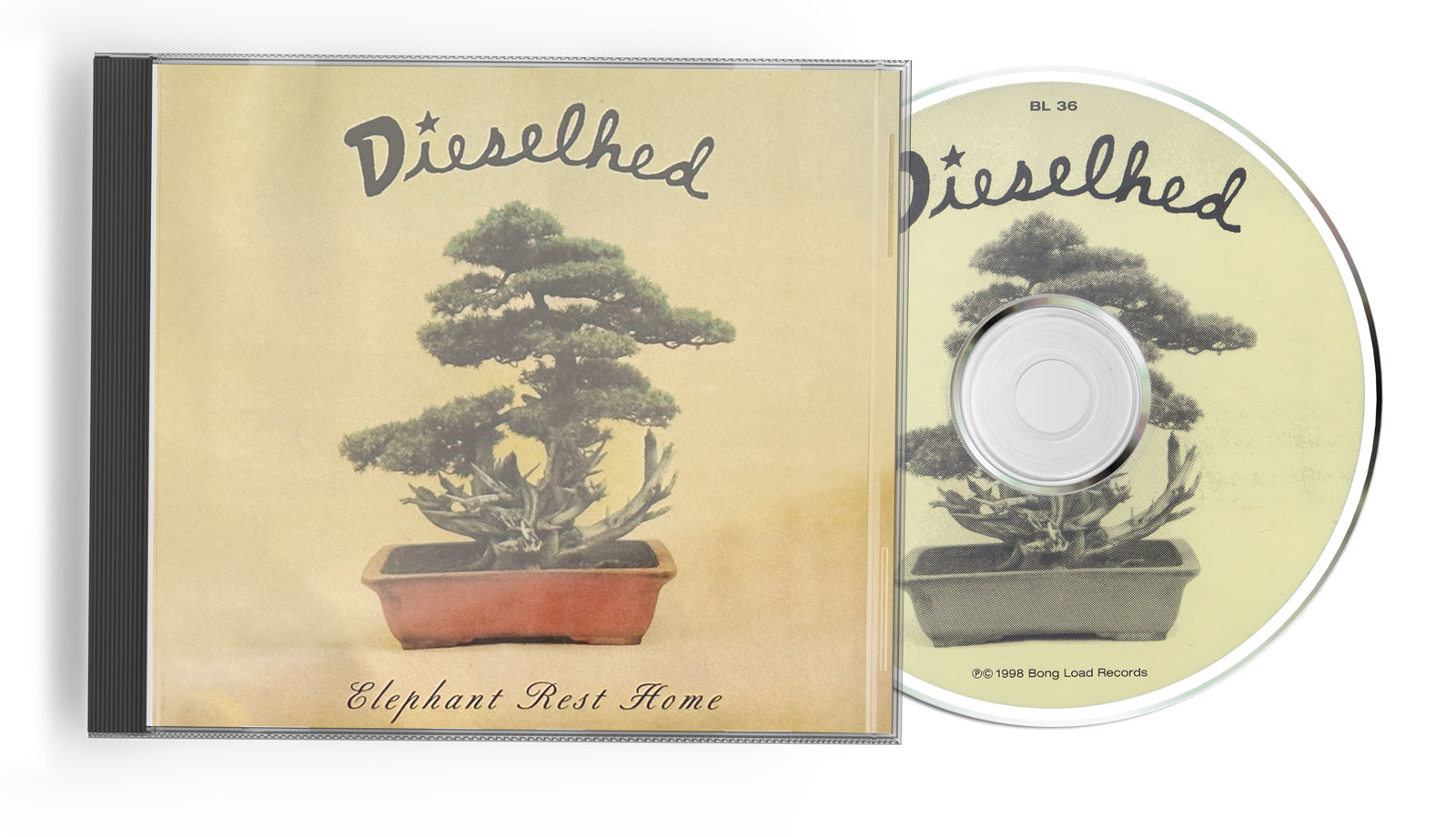 If you've ever been to a Dieselhed show, chances are you've heard most of these songs already. Dieselhed's fourth full-length album is a collection of "slower songs," most of which have been staples of the live shows for years. These songs are all in the vein of classics such as "Yellow Kitchen" and "Cloud of Diesel," as opposed to the more frenetic, uptempo numbers on albums past (think "Produce Section" or "Pizza Box"). The result is an intimate, cohesive collection that many have been calling Dieselhed's best release yet.
If America can spawn alligator farms and Waffle Houses, then it's no surprise when a band like Dieselhed emerges from its freakish loins as well. A band NOT just for the full on rock-n-rollers NOR the straight up country fanatics, Dieselhed has attracted a dedicated following as diverse as this grand country: GOD BLESS IT! Now, after three more "rollercoaster-esque" albums, Dieselhed is releasing their fourth effort Elephant Rest Home: a more down home, relaxed affair.
It was back in September of 1996 when Elephant Rest Home was recorded, and although they had just finished recording their last release, Shallow Water Blackout (produced by Dusty Wakeman — Dwight Yoakam, Reacharound), they had some more recording time booked at Lowdown Studios. Working with studio engineer/producer Greg Freeman (Thinking Fellers, Tarnation), they decided to use this time to record their old familiar tunes they knew by heart, and Elephant Rest Home was completed in about two days. The result is a very different Dieselhed; whereas the other three are a sort of musical hodge-podge, there is more of a consistency and concept behind Elephant Rest Home.
And all that sweet, sweet warbling! Well, it's so soothing you almost forget they're singing about some drunk broad about to break yer neck. Conceived by Virgil and Shon, the lyrics of this album are hilariously honest and sometimes kind of sad … maybe because it's the stuff of comin' and goin' — and all the dusty futons, romantic lap dances, and broken beer bottle 'sorrys' in between.
Dieselhed is known to blossom exponentially during their live show: Cruising up and down some of America's loneliest stretches of highway, they have brought their concoction of virulent symphonic twang to the masses for more than five years. Witnesses claim Dieselhed often accelerate from a melancholy ballad to spontaneous combustion quicker than you can figure out what "Are those your real lips, are those your real eyes?" means. Sure, it's a rather loose affair … that's cuz everybody is havin' a real good time, ya see.
Dieselhed has always experimented with their musical arrangements on albums and live shows — the already intense combination of three guitars and driving rhythm section has at one time or another been joined by trumpets, marimbas, violins, a harmonica, an eerie saw, or even the enchanting lilt of a Hawaiian guitar … it's like Ween in that you just can't really know what to expect, but what you do know is this: Dieselhed is comprised of some expert, albeit twisted, musicians.
Bong Load Records Press Release.
Chico and the Flute, 2000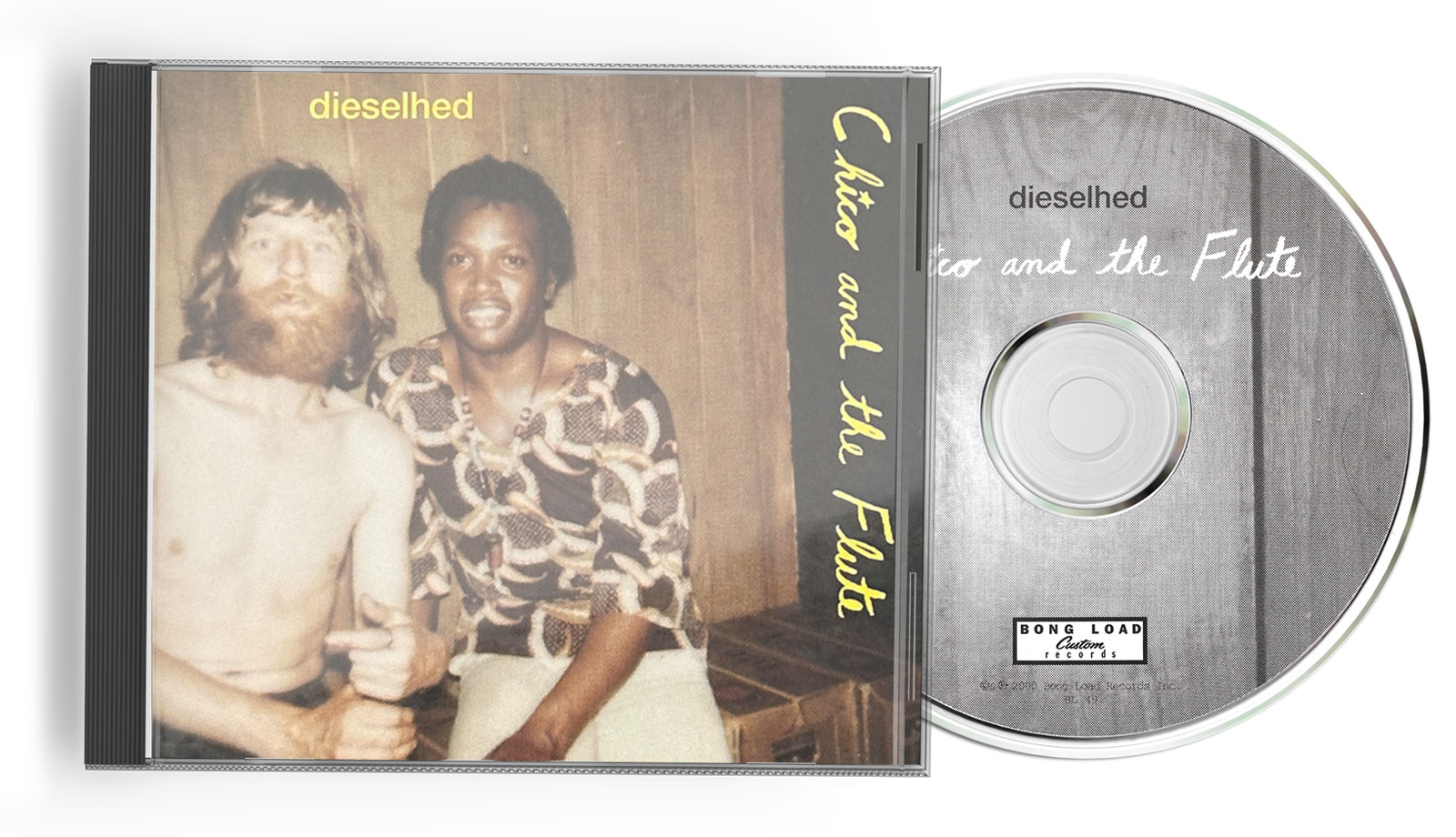 Dieselhed's fifth studio album, Chico and the Flute, proves once again why this quintet from Arcata, CA is one of the most subtly brilliant bands you've probably never heard of. By escorting listeners on a mellow, ambient country-rock roller coaster ride, this album weaves through genres scarcely known and genres yet to be defined.
It's hard to explain what makes Dieselhed such an original ensemble. Perhaps it's because their unique sound seems to come to them so naturally. If they weren't singing about Thai food, loaded brownies, and pigeon-feeding, you might feel inclined to classify them as "country." But their energy, their metaphors, their gorgeous rock harmonies, will always keep comparisons to Nashville at bay.
Vocalists Virgil Shaw and Zac Holtzman once again melt together seamlessly, despite vastly different vocal techniques, especially on the multi-layered chorus of "Starting All Over." "Marlboro Man," with a two-chord guitar progression and chorus crescendo, humbly satirizes the values of Madison Avenue. Short instrumentals "Prelude," "Interlude" and "Outerlude" at times bear a vague resemblance to the minimalist epochs of yesteryear Pink Floyd. But their hard rock tendencies never lag far behind, even on songs such as "Homemade Shoes" when a bluesy bassline combines with an edgy guitar line to produce some of Dieselhed's best foot-stomping music ever.
Their greatest talent, however, is without a doubt lyrical. Their verses are some of the most concrete and cleverly mundane set to laser coding. They don't talk about cars, they talk about primer-gray Volvo; they aren't broke, they've sold their guitars to a pawn shop. It's not glamorous, but it is beautiful in its own way. And, in an era where music-lovers are inundated with the likes of Britney Spears and the Backstreet Boys, this brand of homeliness can be quite refreshing.